Many J6 Prisoners have been held for extended periods in horrendous conditions. Many charges appear fabricated and exculpatory evidence is missing. The DOJ states there are over 1,000 more J6 Protesters for trial over the next 3-years, some have not been arrested.

J6 Prisoner Investigation Questions, include:

Did the government enable (or help stage) J6 Protests?
Why were J6 Protesters allowed to enter the Capitol?
Why were so few Capitol Police on Duty?
Why was the National Guard not used?
Why were so many doors opened?
Why did armed police escort protesters around inside the buildings?
Were the J6 Protesters clearly and definitively ordered to leave and given the chance to leave before Police Action?
Why were pepper spray, night-sticks, rubber bullets and concussion grenades used on unarmed protesters?
Did the J6 Prisoners receive due process, equal justice and humane treatment?
How do Federal Disorderly Conduct Charges relate to First Amendment Rights?
Were J6 arrest and sentencing guidelines similar to BLM/Antifa Riots?
Were J6 protesters treated the same as BLM/Antifa Protesters?
Is DC Jury Pool, defacto, biased against J6 Protesters?
Why have so many J6 prisoner trials and convictions been delayed until recently (the "2024 Election Season" start)?
Two J6 Prisoners seem to be prominent as "Examples" to justify Government action and show how bad and dangerous the protests were. "The QAnon Shaman" could have been cast in Hollywood for his role based on dress and roaming activity. He was sentenced to 41 months after being in custody over 2-years. Sara Carpenter also was perfectly cast because of a Tirade she made on Police BodyCam in the Rotunda saying "I'm a "F—ing Animal". She could be sentenced to decades in prison. It is clear they were both non-violent and cooperated with authorities.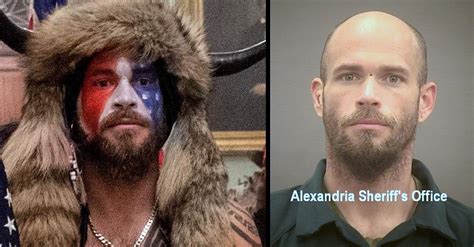 Jason Chansley, the J6 "so called" QAnon Shaman, was actually peaceful but had his moral and legal rights crushed by the Government who withheld exculpatory evidence and fabricated evidence. The "Tucker Carlson" J6 Videos showed him to be non-violent and escorted by many armed Police while in the Capitol. He was placed in solitary, held without trial for 2+ years and his Attorney advised him to take a Plea Deal. He may not have been mentally competent to make a plea and his Defense Attorney performance needs to be reviewed. He has been sentenced to 41-months in prison. If this was not so serious it would be Hysterically Funny and Unbelievable.
Sara Carpenter is a Case Study of Government Judicial Abuse:
She was a 9/11 First Responder, policewoman and former spokeswoman for the NYPD who attended Jan 6 to protest the stolen election. She was convicted on seven charges by a D.C. jury on March 9, 2023. She faces potential decades in prison due to her two J6 felony convictions (Obstruction of an Official Proceeding and Civil Disorder).
Carpenter, a single mother, was arrested two years ago in an FBI raid at her Queens, NY apartment when her tambourine, rosary beads and figurines of the biblical Three Kings of the Nativity were confiscated as evidence. Her Tambourine was used as DOJ evidence.
Police BodyCam shows Sara joining with other J6 Protesters who were chanting "This Is My House" facing the Police in the Rotunda. When she arrives in the front and shouts "This Is My House", she is pushed by a Police Officer. When other J6 Protesters warn her to "Stay Back, the Police Are Animals", she shouts a Tirade "I'm a F-ing Animal, I was in 9/11, I searched for bodies, I'm a F-ing Animal". After that there appears to be aggressive Police action against Sara and the other J6 Protesters without any Notice or Warnings.
Because of her "I'm a F-ing Animal" tirade and "shaking" her tambourine and laughing on the video, Sara is now a DOJ "J6 Show Conviction" like "The QAnon Shaman". Her March 9, 2023 Trial lasted 3-days, the DC Jury deliberated less than 2-hours. Her Charges seem to be all similar Government Gibberish. She will be sentenced on July 14, 2023
Sara Carpenter stated to FBI that at approximately 1:00 p.m. on Jan 6, she began to walk with a large group of people to the Capitol and that she entered the Rotunda of the Capitol.
She told FBI agents that she observed police yelling for individuals to get out, then pushing and shoving the crowd. Carpenter stated she was trampled and pepper sprayed as she exited the Capitol building.
She voluntarily turned herself in and gave the FBI her cell phone videos.
When she was arrested 2-years ago she was released on no-cash bond.
She has cooperated with the DOJ, as requested, since her arrest and there have been no violent behavior incidents.
In objective context, she was never violent and was only expressing her Article 1 Free Speech. Non-violent shouts and tambourine shaking are not grounds for prison! Her video is being used to prove her conviction was justified and to portray J6 Patriots as "animals". Her American Citizen First Amendment Rights should be honored. She should be forgiven her trespasses, treated like a BLM/Antifa Protester, and released.
Click HERE to Donate.